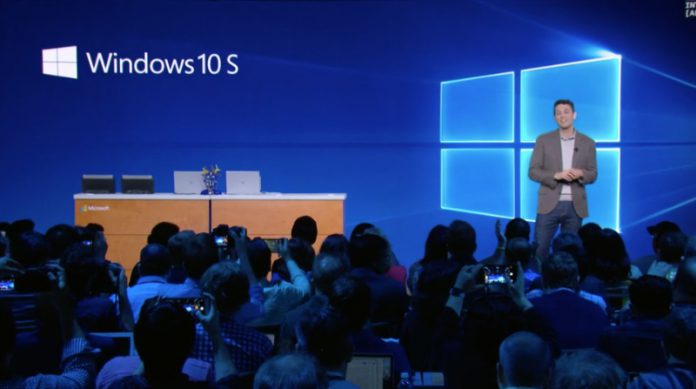 Microsoft, yesterday announced the latest version of Windows 10 to take on Google Chrome OS. The OS is designed to help students and integrate technology in the education sector. Microsoft did show some of the features of Windows 10 S and below is the rundown of everything you need to know about it.
Can only install apps from Windows Store
One of the biggest most noticeable change in Windows 10 S is the ability to install apps just from the Windows Store. At this moment, apps like Photoshop, Chrome, iTunes etc are not available in Windows Store but Microsoft does allow developers to port apps to Windows Store so it will be interesting to see how developers respond.
Microsoft is also bringing its full Office Suite to Windows 10 S soon and Spotify will be also bringing their music streaming app to the new OS but for now, if you use many apps then the operating system is not for you.
Security
Microsoft is going with better security for Windows 10 S by restricting the type of apps that you can install on Windows. The systems running Windows 10 S can only download and install apps from the Store which will prevent unnecessary apps and bloatware from consuming the resources. This step will also prevent Malicious apps from making a way into your PC which is good from the education point of view.
Performance
Fewer apps mean better performance and battery life. This is true for Windows 10 S as Microsoft promised better performance and login times compared to Windows 10 Pro and also better battery life on standby. Microsoft said battery on Windows 10 S devices can easily last for the majority of the day.
Restricted Settings
Microsoft has restricted several settings on Windows 10 S that includes the ability to change default browser and search engine. This means the devices running Windows 10 S will be using Microsoft Edge as the default browser and Bing as the default search engine.
You may also like to see: How to Change Default Search Engine and Browser of Cortana?
Upgradable to Windows 10 Pro
Microsoft is giving users option to upgrade to Windows 10 Pro by paying just $49. This is a great deal and a quick-fix if you want to run desktop apps. Although, this might add a little cost to new hardware that will run on Windows 10 S in future. Fortunately, Microsoft is offering a free upgrade to Windows 10 S on Surface Laptop until the end of this year.
Why Windows 10 S?
Windows 10 S can be considered as the lite or striped down version which looks and feels just like Windows 10 Pro but is faster, safer and gives better battery life while making sure that it feels like using Windows 10 Pro. This OS is not made for people like you and me who want everything on their laptops but is designed for people who want selective apps and services with better performance and battery life. Microsoft is currently targeting students and education sector as a whole to push Windows 10 S and help the students learn using technology.
Conclusion
Windows 10 S is Microsoft's way of tackling the problems faced by Windows RT and to encourage developers to go on and bring UWP apps on Windows Store which can act as a boost to the dying Windows Phone. By allowing developers to port their apps to the Windows Store, it boosts Microsoft's control over the Windows ecosystem and even its revenue thanks to the percentage it takes from app sales. It might even force companies like Google, that have traditionally avoided UWP, to get apps into the Windows Store.
Overall, the new operating system is a test for Microsoft to try and better secure and improve the experience of Windows. Windows 10 S is Microsoft's latest attempt to move into a more modern environment.